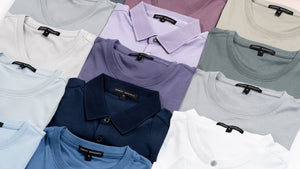 100% pIMA cOTTON
bARAKETT eSSENTIALS
wHY pIMA cOTTON?
Smooth Touch
Pima Cotton's extra-long fibers make for a luxuriously soft, smooth fabric, with just a hint of sheen. This type of fabric only gets softer with time, and is ideal for those with sensitive skin.
Lasting Impression
It's resistant to fraying, tearing, pilling, wrinkling, and fading — with a longer life expectancy than other cotton products.
Shape Retention
Our Pima Cotton fabric retains its shape for years — especially along necklines and collars where it's important for that sharp, crisp look to be maintained.
100% USA-Grown
Despite a large portion of Pima Cotton production now being done overseas, we only source from American growers to ensure our fabrics are the highest quality Pima possible.